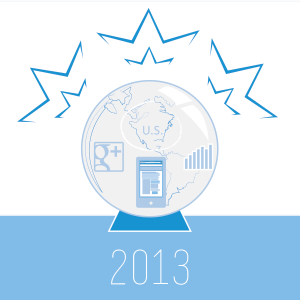 We were a little hesitant to make predictions since, well, forecasting the future is a rather risky endeavor but it seems to be the thing to do before the new year. So as the leading Franklin IT company, we thought we'd stick our necks out and share our opinions as to what 2013 holds for the IT industry. Here goes:
Tablets and Smartphones will become our go-to computing devices.
Tablets and smartphones are on the rise big time and will continue to skyrocket into 2013 and beyond. The quantitative predictions for tablets are: 13 million devices to be purchased by enterprises before the new year, and by 2016 the number will more than triple. As to smartphones, about two-thirds of the mobile workforce will own one in 2016. I think we can all say we've gone to a store, swiped our card, signed our name and received our receipt all with the use of a tablet or smartphone. It's an easy and efficient alternative to the hefty cash register. These two devices are popping up all over. However, with that being said, most businesses won't completely ditch PCs for smartphones and tablets, but their ubiquity and increasing popularity are vastly changing the way consumers embrace the technology, business strategies and media associated with particular devices.
Tech products to be built more and more in US.
With Chinese wage and transport costs increasing, overseas production no longer has such an advantage. In reaction to this, companies are getting smart and planning for production a little closer to home. Not only did Apple announce its decision to bring back some of its production of Mac computers to the United States, in a recent NBC interview Chief Executive Tim Cook divulged that one of the existing Mac lines will be manufactured exclusively here in the states. Even some foreign companies are following Apple's footsteps. At the start of the year Lenovo will be building a massive computer production facility in Whitsett, N.C., while other companies like LG Chem gear up to create hybrid and electric car batteries in Michigan. This huge transition is projected to produce 2 to 3 million new jobs by the end of the decade so it's a big win for the U.S. economy at large!
Desktop pricing to go up compared to tablet/smartphone pricing.
With 2013 said to be the year tablets will outsell desktops, one would suspect to see a decline in PC sales. After all, according to some experts, aren't we supposed to be living in a "post-PC" era? Au contraire. Because so many people, especially information workers and designers, still need the large display and significant processing power of a desktop to produce their detailed creative work, and with tablets taking the place of laptops, desktop PC sales will actually increase significantly. They will return to their original function as work-related machines but with new high-end features such as retina displays and touch-screen functionality. Desktops will become smarter and more powerful, consequently pushing the price curve higher and higher.
NFC (Near Field Communications) to become more adopted.
As many Android and Windows smartphone makers have already jumped on board with NFC, leading manufacturers including LG, Nokia and Samsung are following suit, beginning to incorporate NFC into their product designs. As many as 300 million NFC-enabled devices are predicted to be sold in 2013, a significant increase from 2010's sale of 2 million. With its widely talked-about mobile wallet application, it seems like a given to us. What business wouldn't want to get their hands on technology that allows for more universal, easy, simple methods of payment? NFC functionality goes much beyond the mobile wallet. It is being used in Bluetooth pairing and applications in various transportation terminals, interactive displays, identification and peer-to-peer communication. NFC is expected to improve with a wider array of applications and service features as consumer adoption increases.
Google will continue to own the world!
2012 has been a big year for Google and with the search giant continually rolling out newer, smarter products and technology solutions, it should come as no surprise that it will continue to lead the tech revolution in 2013. As other companies try to keep up, Google will continue to face fierce competition on all sides. However Google really plans to flex its muscle in 2013 in just about every facet imaginable with the much anticipated Google Glass, a refreshed version of Nexus, and the genius mind of Ray Kurzweil all expected to come to the forefront. And that's just to name a few!
Cloud or SAAS based softwares to take the stage. 
The flexibility and dependability of Cloud/SaaS based softwares, makes them the no-brainer choice for managing large databases in 2013. There are more ways than one in which Cloud/SaaS applications offer higher levels of simplicity and value to organizations. First and foremost because both softwares are monthly/yearly recurring revenue models, allowing you access to all of the up-to-date features without having to upgrade the software yourself and yielding the most profit for the provider–a win, win for everyone. In addition, because the software is hosted by a major company, they have measures in place that take over in the case that something goes wrong. Not only that but in using Cloud/SaaS based software, you are housing your data in more than one data center, giving you a plan B for saving and accessing your data.
Apple to combine one platform for tablet/smartphone and OS to one universal system.
Essentially we're speculating that in the new year Apple will continue to make their products more exclusive by completely replacing MacOS with iOS7, similar to the way Windows 8 integrated the phone and tablet functionality with the actual operating system. What this would mean is that the App Store would be further integrated into the operating system, forcing users to purchase any and all applications and programs THROUGH the app store instead of a third party software distributor. iTunes "Live" would also go into effect meaning that instead of residing on your computer any and all music purchased would be streamed.
Maybe these predictions were helpful, maybe they were a little over your head, maybe you just downright disagree with them or maybe they are not pertinent whatsoever to your life. Whatever the case, we want to stress the importance of keeping a watchful eye on trends, because as quickly as technology is evolving (and it will only speed up in the years ahead), it's easy to get left behind if you're not constantly adapting. You do always have your favorite Franklin IT company to fall back on. If your computer is on the brink or you're looking for a more efficient backup system and workflow, start the new year off right with a call to the best Franklin IT company 615.595.6399! We'll be happy to serve you 🙂